All about picking up your Sunny Cars rental car
Yes! Finally the time has come. Packing was a bit stressful, but by now you have landed at your destination. Luckily you have already reserved your rental car at home, so you only need to pick it up to start enjoying yourself! It is at this point that you can sometimes overlook important matters. With these tips, you'll know exactly how picking up your rental car works. You'll know what to expect and you'll be able to drive to your destination even faster!
What do I need to pick up the rental car?
The three most important things you need to pick up your reserved rental car are
The voucher
Your driving license
A credit card in the name of the main driver (unless you have chosen the No Deposit service or a cash deposit is possible).
Are you at the rental desk of our partner on site? Then hand over the above mentioned documents and check the rental contract thoroughly before signing it. If you have booked your rental car through Sunny Cars, one thing is very clear: you don't need to sign for additional insurances. We have already taken care of everything for you. You can say no to the extras that are offered.
Where do I pick up the rental car?
Don't go looking for a Sunny Cars desk at your destination, because there is none! The reservation of your rental car, including all insurances, is handled from the Netherlands. We have direct connections with the best local and international car rental companies in the world, and they deliver your rental car. Sunny Cars does not own a fleet of cars, and instead of working in sunny locations abroad, we work from Haarlem. Therefore, we do not have a counter at your holiday destination, but the car supplier with whom we have reserved your car, does! That is where you pick up your rental car. You can find where to find the counter on your voucher. Because you receive the voucher immediately after making the reservation, you have enough time to read up on which way you need to go and who the supplier is. At your leisure. After all, it's your holiday!
How does Hotel Delivery work?
If you booked the Hotel Delivery, you don't have to pick up your rental car. It will be delivered to your accommodation at an agreed time. This is convenient if you don't want to rent a car for the entire holiday period, but just want to tour for a few days. Would you like to use Hotel Delivery? Please indicate this when booking.
Sign the rental contract at destination
You have already provided us with your personal details when making your online reservation. Why do you have to fill in and sign the rental contract again at your destination? The name and address details you provide during the reservation process are not enough. Moreover, not all partners can process this automatically. If they do, we ask you to fill in an online check-in form in advance. This way you only have to sign on the spot. Read the rental conditions carefully to make sure you don't sign for extra insurance at destination.Are you travelling to Italy, Spain, Portugal, France or Canada and the USA? Then please read our blogs. There we will tell you specifically what to look out for.
After all that paperwork, you will receive the keys to your rental car. A time-consuming chore, especially when there are several people picking up their rental car at the same time. That's why we offer the Online Check-in and Fastlane services. With these services you can skip the queue and your rental contract will be filled in and ready for you. Our tip: Are you picking up your car during the high season? Then be sure to book these services. It saves you a lot of waiting time at the counter and you can hit the road at full speed!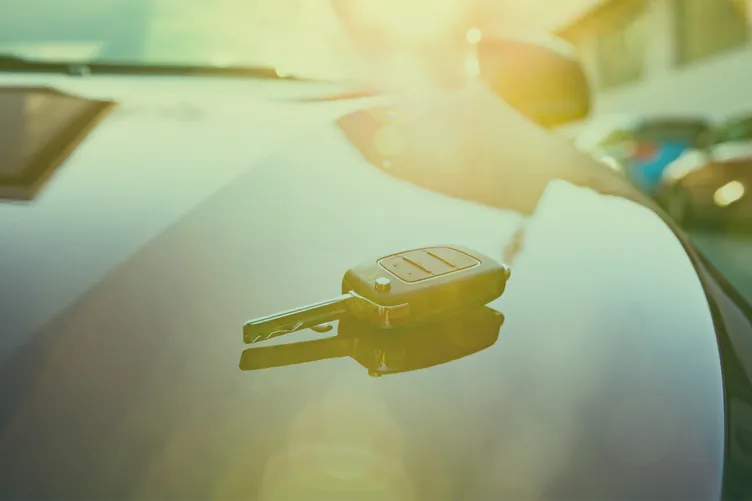 Before you drive off ...
All the paperwork is done and at the counter they will tell you where to find your rental car and hand over the keys. We understand that you'd love to get in and drive off! But take a few minutes to walk around the car to check for any damage that is not mentioned on the contract. Also take a picture of the fuel level.
What if I pick up the car outside of opening hours?
This is no problem at all. When booking online you can indicate at what time you would like to pick up the car. We will then show you the offices that are open at that time. Sometimes an office is closed, but an employee will wait for you. It is possible that there are extra costs involved. Do you see no costs for out-of-hours pick ups in your overview while making your reservation? Then there are none! Please check your voucher, because if you enter an arrival time within the opening hours and you still arrive after closing time, these costs will of course be charged. That's why we always mention the opening hours of the supplier of your car on your voucher.
I want to pick up the car later than mentioned on my voucher, is that possible?
When making your reservation, you have to give us your flight number and pick up time. By giving your flight number, the rental company can see if you're delayed. In principle, they will hold the car for you for 1 hour at the local rental station. But we always say: if you are even slightly late, call the local fleet provider to report this and make sure the car is still available. The phone number of the local fleet provider can be found on the voucher. It would be a shame if they gave it away to someone else. Especially in times of scarcity and in the high season this can happen! Picking up the car later is in many cases no problem, as long as you communicate it. Why call directly to the local rental company and not to Sunny Cars? Calling to the local partner is faster because they can answer you right away, whereas here at Sunny Cars we'd have to check with the local partner and then get back to you.
I forgot to print out my voucher
Oops ... not very handy, but it happens. We always send the voucher to the e-mail address you entered. If the voucher has an Apple Wallet icon, you can add it to your Apple Wallet and show it at the desk. Is the icon not there? Then you'll need to print it. Often there is a possibility to print at the airport, or you can ask at the hotel where you are staying. Can't work it out? You can call us on the emergency number 24/7. Our car rental experts are happy to help.
I forgot my driving licence, now what?
That's a shame, because without an official driving license, you won't be able to pick up your rental car. Not even with a copy of your driving license. Should this happen to you, please call our emergency number so our car rental experts can, in consultation with the local fleet provider, try to transfer the reservation to the name of your fellow traveller (who will hopefully have a valid driving licence and a credit card on file). If that is not possible we will have to cancel the reservation. So always make sure you have your driving licence with you. Check, check, double check!
I forgot my identity card or passport, now what?
Here too the rule applies: no valid ID is no rental car! Unfortunate but true. Fortunately, this does not happen very often, because you need your passport to be able to fly, but there are exceptions. What can you do if you forgot yours? Call our emergency number so our car rental experts can help you think things through. We can, for example, see if we can still put the rental car in the name of the person travelling with you, if that person has an identity card or passport. That person should also have a credit card in his or her name for the deposit if applicable.
I have forgotten my credit card. What should I do?
A credit card in the name of the main driver is an absolute requirement when renting a car, unless of course you have chosen the No Deposit service or a cash deposit is possible according to the specific terms and conditions. But what if you find out at destination that you don't have your credit card with you? Call our emergency number so our car rental experts can check if there are any other options to get the car. Perhaps the reservation can be changed to another main driver (who has his or her credit card) or there is still a possibility to pay the deposit in cash. But none of these options are guaranteed to work, so make sure you always check in advance whether you have everything with you! Better safe than sorry.